Welcome to Briana's Violin Studio in Oakland, CA! Briana is a passionate instructor to students of all ages (3 and above). She became a certified Suzuki method instructor in 2002 and infuses lessons with her diverse musical background. Students appreciate her energetic yet patient teaching style and the wide variety of music they learn, as well as solid violin technique and Suzuki inspired philosophy and approach. 
In addition to directing an annual summer fiddle and arts camp for kids, she also runs a fiddle club throughout the year and sits on the board of the Suzuki Association of Northern California. She has taught strings classes at Sacramento and Berkeley Rose Waldorf Schools. Additionally, she has been included on the teaching staff at Lark Music Camp, Middle Eastern Music Camp, Stringsfest and Sierra Music and Arts Institute. 
Please contact Briana for more information on lesson tuition and availability, briana@brianamusic.com.
"

Since my 10 year old daughter started Suzuki / fiddle lessons with Briana, her enthusiasm toward playing and practicing has completely transformed. She has begun to really love playing music."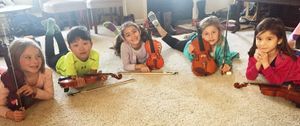 "

Beautiful Tone, Beautiful Heart."
— Dr. Shinichi Suzuki
For more reviews, please check us out on Yelp! https://www.yelp.com/biz/briana-di-mara-violin-instruction-and-performance-oakland